San Timoteo is Golden Goliath's property in the Uruachic Mining district of Chihuahua Mexico. There are several small old workings on the San Timoteo property, as well as one major old working, which is the old San Martin mine. This past producer of high grade silver and gold was closed around the time of the Mexican Revolution and was developed over several levels. By far, the largest tunnel, is the 500 adit level and this is the only working in the Uruachic camp that has old rail tracks. Previous detailed sampling and mapping by Golden Goliath in the No. 5 level outlined three high grade gold and silver bearing mineralized shoots and one mineralized "manto' exposed within the tunnel.
The grades and widths of these zones are excellent are detailed below.
Past work also included clay analysis of samples from all over the San Timoteo property, especially from the No.5 level of the old San martin mine. This work confirmed that the No. 5 level is ABOVE the boiling, or "bonanza" zone of the epithermal model, indicating possibly greater potential at depth.
The 500 level of the San Martin mine is over 500 metres long and is connected to other levels through raises and winzes. It is the lowest adit level possible as its entrance lies at the bottom of a local valley.
The shoot closest to the entrance of the 500 level tunnel is known as Manatial. This structure is exposed for 32 metres with a weighted average of 0.301 ppm gold and 212 ppm silver. In the central area of the tunnel, the La Cascada structure is exposed for 78 metres and averages 0.629 ppm gold and 68 ppm silver. At the far end of the 500 level, the Pozo de Agua structure is exposed for at least 84 metres, with continuous channel sampling averaging 0.795 ppm gold and 251 ppm silver. Additional non continuous sampling outside of this section also returned good values. The true thickness and grade of the blanket or manto style mineralization is not certain due to limited exposure.
Modelling of the three shoots dimensions and grades below the 500 level is uncertain due to lack of drill data in the specific areas, but relatively nearby drill holes do show significant mineralization. Potential for deeper, porphyry-related copper and gold mineralization was identified.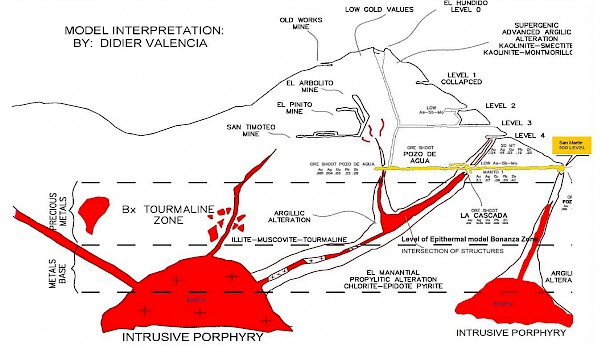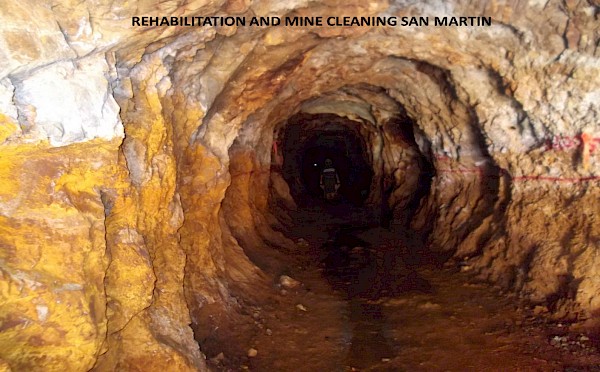 Cleaning the inside of the Level 500 Tunnel (also known as San Martin)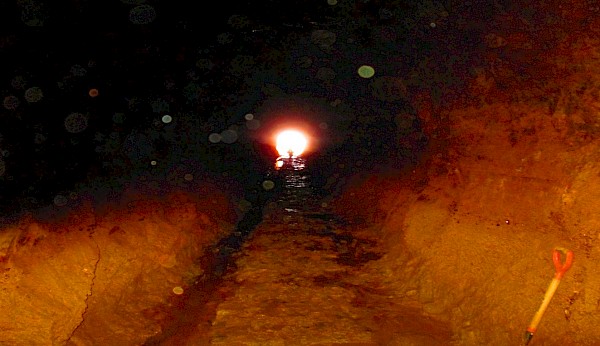 Looking out of the Level 500 Tunnel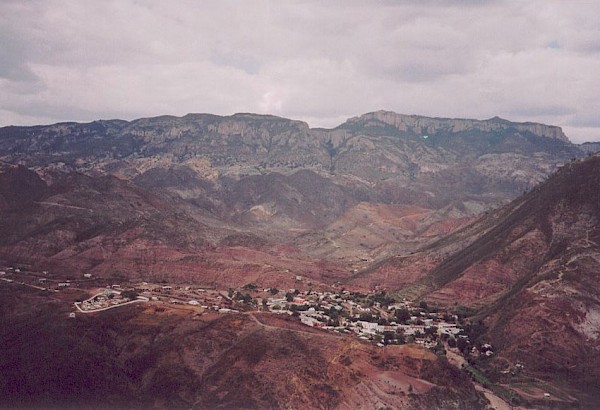 Town of Uruachic surrounded by intense alteration.
Preliminary Underground Sampling of 500 Level Tunnel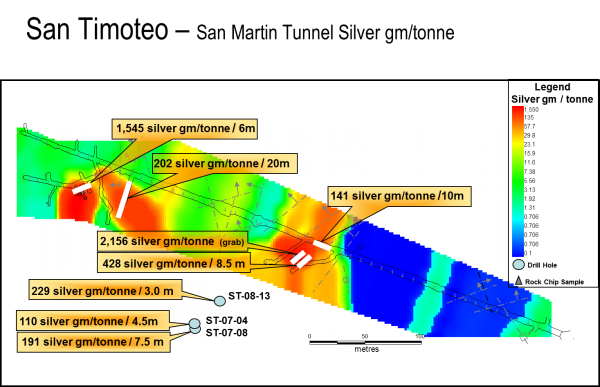 Silver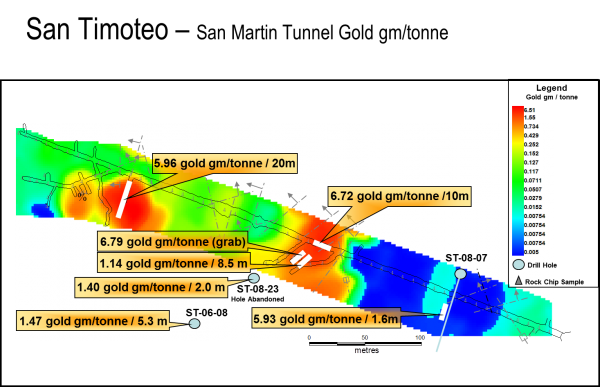 Gold
Detailed Underground sampling of 500 Level Tunnel


Silver


Gold
Corporate Presentation - San Timoteo: A Light at the End of the Tunnel (February 2020, PDF)